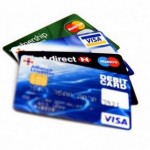 Shopping. Who does not like shopping? Now, shop owners have been choosing internet to sell or promote their goods to their customer. This method has revolutionize the way people shop. Shop owners now can easily market their goods to specific customer. Customers also has the privillege to choose from hundreds or thousands of choices before make their decision. The prefered method of payment is using credit card. Prepaid Visa Card can provide user to shop online with ease.
Phone card and Prepaid Visa Card has the similar principal. The amount of credit used depend on the amount you reloaded. It provide safer and convient usage. It means that you whould not over spend your budget. And the good thing is you can use it same as the normal credit card! And of course you can use it to shop online. This provide an extra safety feature to you where the credit amount of the Prepaid Visa Card is limited to the amount you reloaded to it.
Same as other normal credit card. You should plan and spend wisely.  Otherwise you will run out of the fund or credit amount that you have reloaded. Happy shopping online!
Tags:
credit card
,
debit card
,
online
,
shopping