What a pleasant surprise!
Today is the 30th anniversary of Pacman.
Who does not love Pacman.
We all growing up playing Pacman.
Today you can experience it again on Google. Enjoy!
although the homepage of google no longer show the google's pacman logo.
you can still play it at www.google.com/pacman
update: you can embed the game to your site too. refer here.
ps: they also changed the "I'm Feeling Lucky" button to "Insert Coin". Cool huh?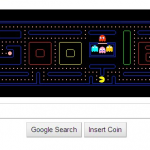 Tags:
anniversary
,
doodle
,
google
,
google doodle
,
PAC-MAN 30th Anniversary
,
pacman