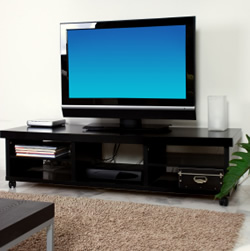 LCD TV becoming latest trends in TV selections. Despite of the emerging of Plasma and LED TV. LCD TV is here to stay. The technology that LCD TV hold is still leading the TV industries such as High Definitions (HD) technology. There are a lot of features embedded in a LCD TV. You might considering these features into your consideration before selecting your LCD TV.
Resolutions. Although there are LCD TV offers of 720p. It is better to look for higher resolutions such as 1080p (or higher if available). Even it cost higher than the 720p, it surely will be the best for you.
Engine. The performances of LCD TV lies in the heart of the LCD TV itself; the engine. The engine differs from one manufacturer to another. This engine technologies keep one manufacturer ahead of other.
Refresh Rate. The refresh rate is measured through Hz. The common refresh rate of an LCD TV is 120Hz. The higher refresh rate, the smoother the picture quality. Some even offered as high as 240Hz.
Screen Size. The screen size varies from as small as 24 inches and as big as 52 inches. And majority of them come in wide size. It means that the screen width to height ratio is 16:9. This depends on where you want to put the LCD TV, smaller screen size suitable for small room and vice-versa bigger screen size suitable for bigger room size.
Connectivity. With the advance of today's LCD TV technologies. The many type of connectivity choices available in the market. HDMI (High-Definition Multimedia Interface) is a must in today LCD TV as HDMI can delivers high quality picture, that makes your LCD TV is HD-Ready. Some even equipped with SD Card reader that enable you to playback pictures or videos taken with your digital camera or digital camcorder.
Warranty. You might need to check the warranty of the LCD TV before making your choice. The common warranty offered by most companies is one year. Some ever offered extended warranty to their LCD TV. This is important as you will spend quite a lot of money to buy of the LCD TV, and you deserved the best after sales services can offered.
For most of tech geek like me, if you find difficult to choose between a 47 inch or a 52 inch LCD. You can easily search for 47 inch LCD TV reviews or 52 inch LCD TV review on the internet. You might find the reviews very useful in order for you to select the best choice suitable for you. The reviews is mainly based on real user experience of using the LCD TV. In the end, it you who going to enjoy your LCD TV. You better experienced it first hand yourself.
Tags:
LCD TV
,
Review